Given the marketshare of Android devices, putting up your podcast in Google Podcast would mean reaching an incredible amount of potential audience as well as smart devices like Google Home.
If you're interested in getting your podcast into Google Podcasts, good news is you may not need to manually submit it. Google crawls shows to include in its platform, and your podcast might have already been indexed.
1. Check If Your Podcast Has Been Included
In Google's Podcast Publisher Tool, you can verify by entering your RSS feed URL into the generator and click GENERATE button.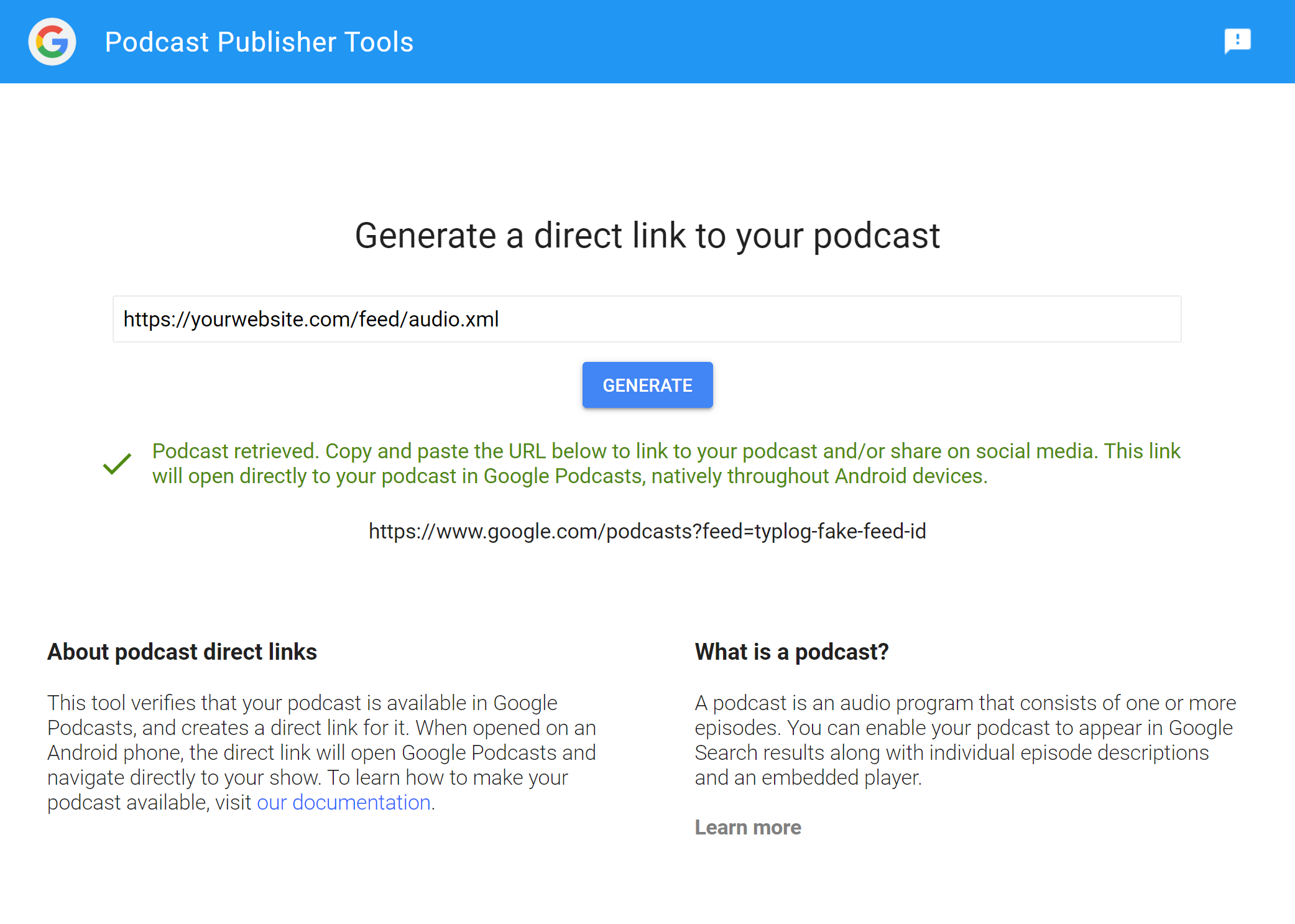 If you see the same green message as above, congratulations! Your podcast is already in Google Podcasts. No further action is necessary.
Otherwise, you'll need to help Google index your podcast by taking the following steps.
2. Make Sure Your Site Is Compatible with Google Podcasts
Visit Google Podcast Reference Guidelines and make sure your podcast meet all the requirements. If the podcast is hosted on Typlog, your site already meets all of Google's criteria. All that is left is to help Google find it.
3. Register Your RSS Feed URL with Google
Now that your podcast is compatible with Google Podcasts, you can request Google to crawl it. Submit your url here to the Google index.
If you come across any problems, please contact [email protected] and we are always glad to help.
4. Wait for the Magic
If you follow all these steps it can take a few days for Google to index your RSS feed, though we've seen podcasts get added in a couple hours. If you don't see your podcast in Google Podcasts within a week, then you'll want to verify again that your podcast website is compatible with Google Podcast.